GloBright Braided LED Cable | 27W BlitzCharge | Lightning
🇺🇸 Shipping Within 24 Hours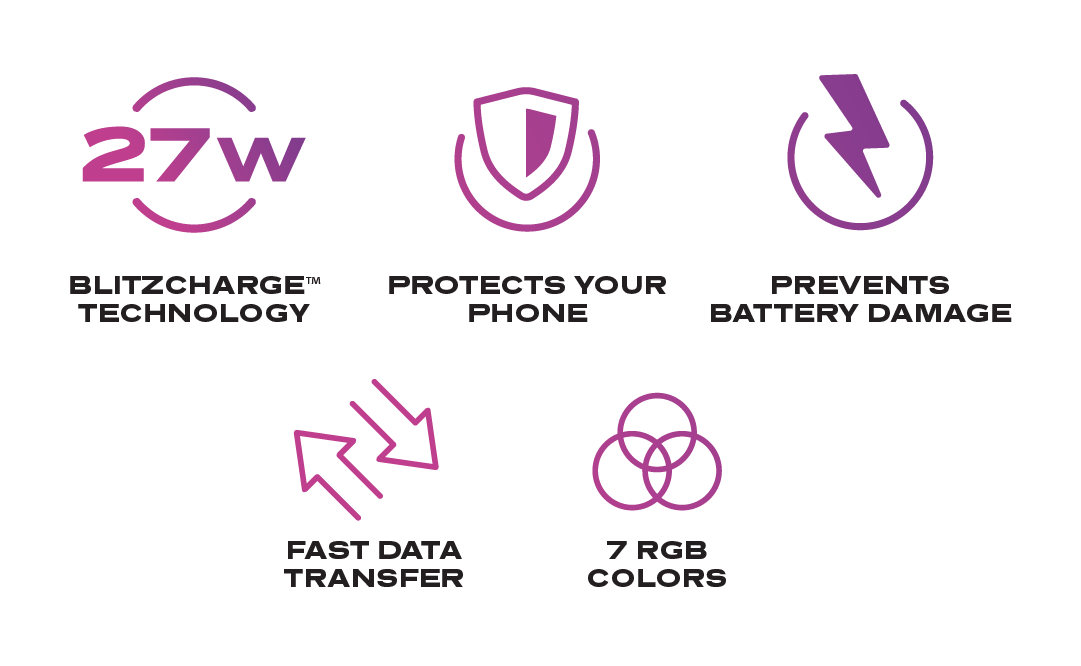 COLORFUL, BEAUTIFUL, STUNNING: The breathing glow of this charging cable will certainly get you all the attention. You can use the LED cord in all spaces of your home or even your car to get an extraordinary atmosphere while boosting your devices.
FAST CHARGING: Featuring an intelligent chip inside, this USB-C cable can support charging of up to 27W. That's enough power to fast charge your iPhone or iPad.
SUPER STRONG: This glowing cable is made of premium materials with durable metal housings that can withstand 30,000 bends and twists.
THE PERFECT LENGTH: At 6ft long, this LED charging cord is perfect for use throughout your home or office. Charge while relaxing on the couch, in bed, in your car, and anywhere else you can think of.
SYNC YOUR MUSIC, FILES & MORE: It's more than just charging cable. Use it with Apple Carplay and Android auto, sync music from your laptop to your phone, or transfer files from one device to another at up to 480 mb/s.
WARNING: This product can expose you to chemicals including Bisphenol A (BPA), which is known to the State of California to cause cancer and/or birth defects or other reproductive harm. For more information go to www.P65Warnings.ca.gov
All items purchased from statikco.com ship within 24 hours unless otherwise stated.
You can return any undamaged items within 60 days of receipt. To start a return and learn more about our return policy, click here.
All new products purchased at statikco.com come with a 1 year warranty.
If your product breaks under normal wear and tear within 1 years of purchase, we will replace it for you. Click here for more details.
LED Lightshow With Hardcore Durability
The charging cord is made of high-quality woven copper wire, which gives it a unique texture and enhanced durability
Superfast Charging For Your iPhone
The iPhone fast charging cable supports safe high-speed 2.4A charging, which can reduce your waiting time
BONUS! Travel Friendly Cord Wrap Included
Roll it up and go. The silicone cable wrap keeps your GloBright Braided Cable neat and safe so you can get back to your next adventure faster.
Rated for 30,000+Bends
Pull force increased by 300% than standard cell phone charger cables.
6ft Long
6ft thick, so you get more comfort when carrying. Made with a convenient design that stays out of the way while you work or play.
Transfer Files From Your Phone To Your Laptop
Move files, music, videos and more from your phone and computer with lightning fast speeds
Broad USB-C TO Lightning Compatibility
Work with most of the iPhone's and iPads advanced features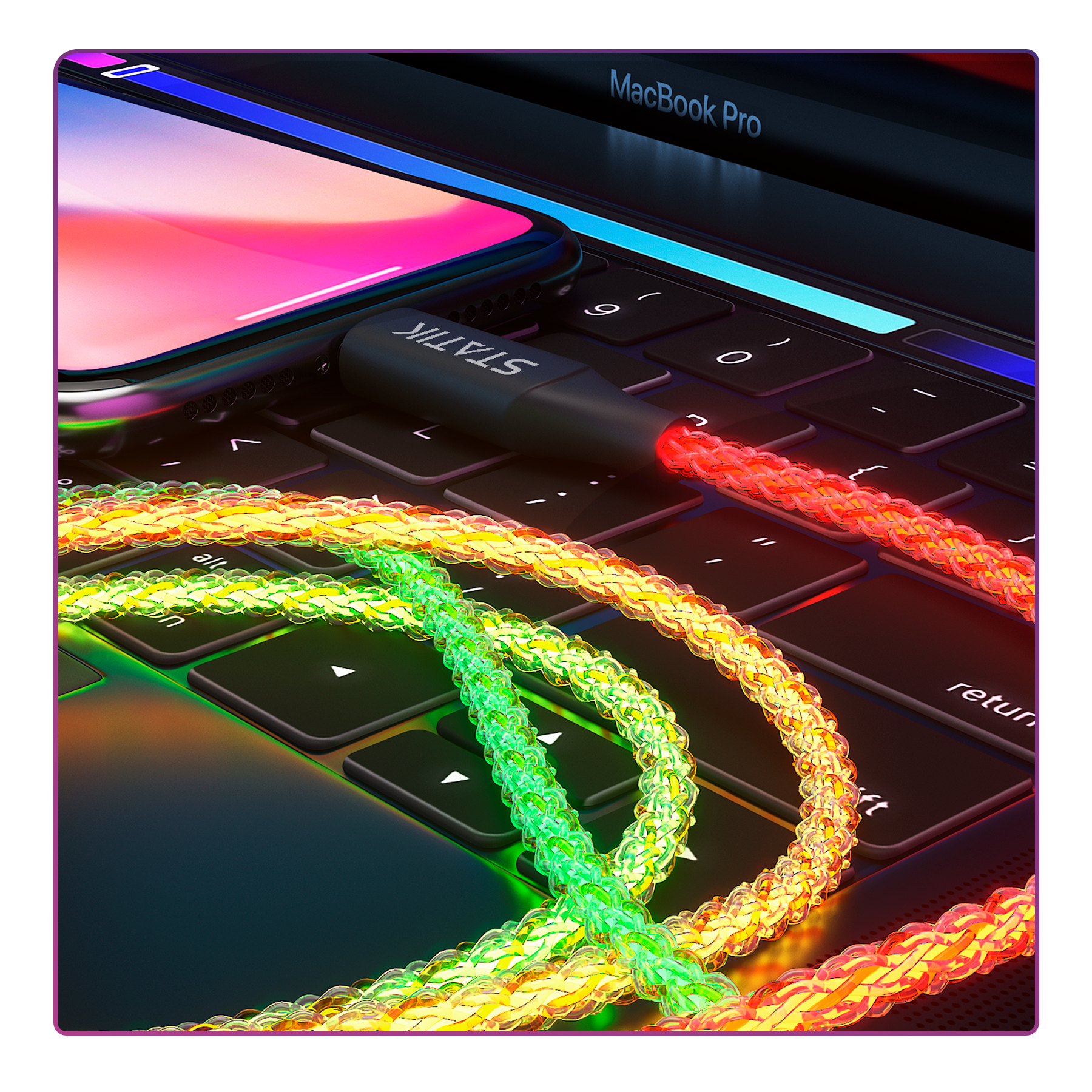 GloBright Braided LED Cable | 27W BlitzCharge | Lightning
Los cables los quería para android no para iPhone, no me sirve ninguno y es una pena.
Hola Kevin!
Estaremos encantados de ayudarte con este problema que tuviste con el cable. Por favor revise su correo electrónico. :)
Broken
I like the charger and the magnetic connector but the one I use most broke in half fairly quickly
Hi, Mary!
Kindly check your email inbox, so we can help :)
Definitely Interested
I would love to try these for me and my husband. We both have iPhones and need 10 ft cable. Will there be a 10 ft cable in the near future? Thanks.
Donna/St.Pete Beach
Hello, Donna!
We're happy to help! Your satisfaction is truly our #1 priority.
We are looking forward to offer you more innovative products that you will surely love!
If you like it so much, we would really appreciate you leaving a review about your experience with us here: https://www.trustpilot.com/evaluate/statikco.com
Just scroll down the page and click on 'write a review'!
Thank you so much and have a great day!

Liars!
YOU GUYS ARE LIARS! ITS NOT SUPER STRONG AND U NEED TO KEEP IT IN A STRAIGHT LINE FOR YOU'RE DEVICES TO CHANGE ALSO IT CAN BLINS YOU!! But other than that it's really cool and somewhat useful, I guess
Hey, Ashley! Someone will be in touch right away to fix this for you! :)