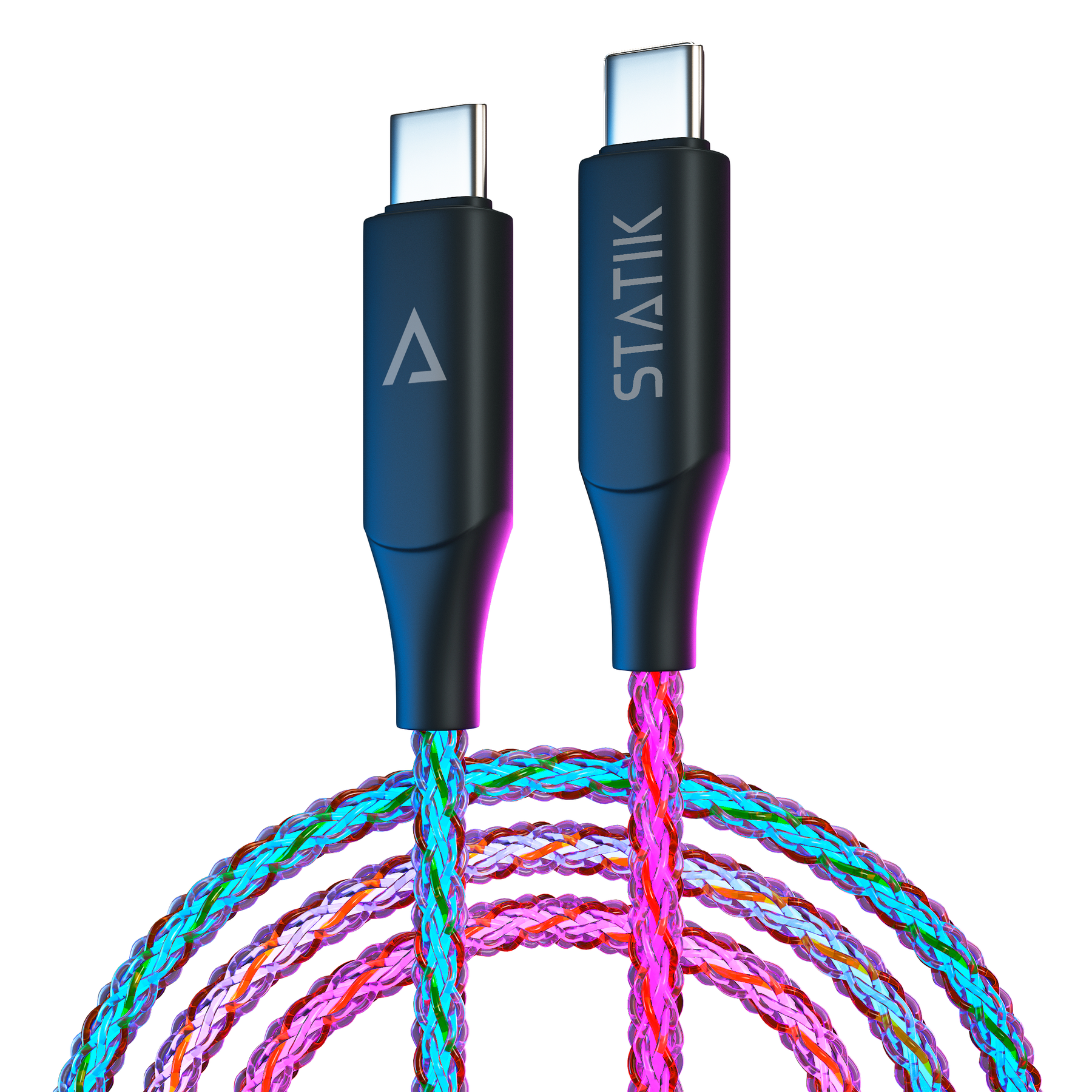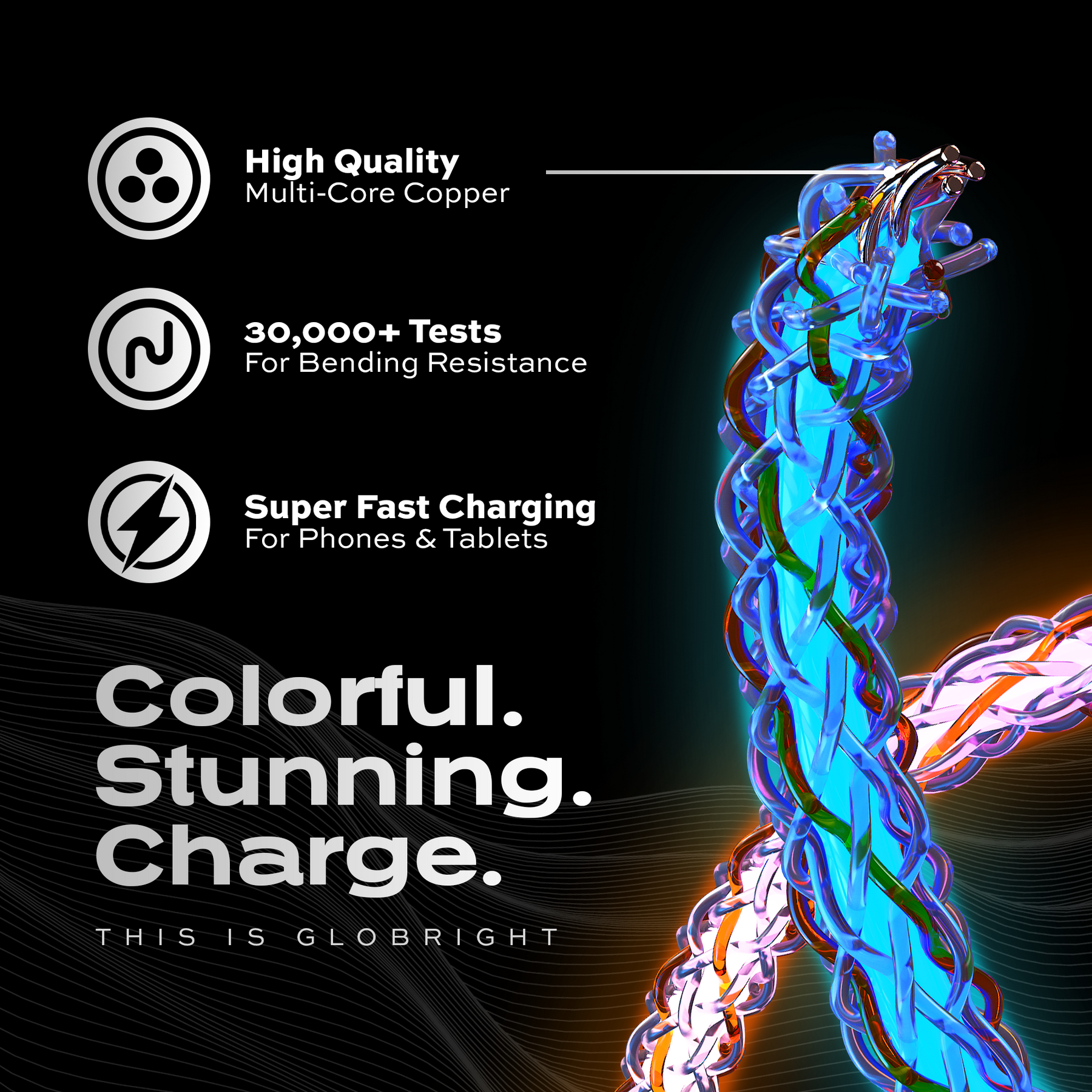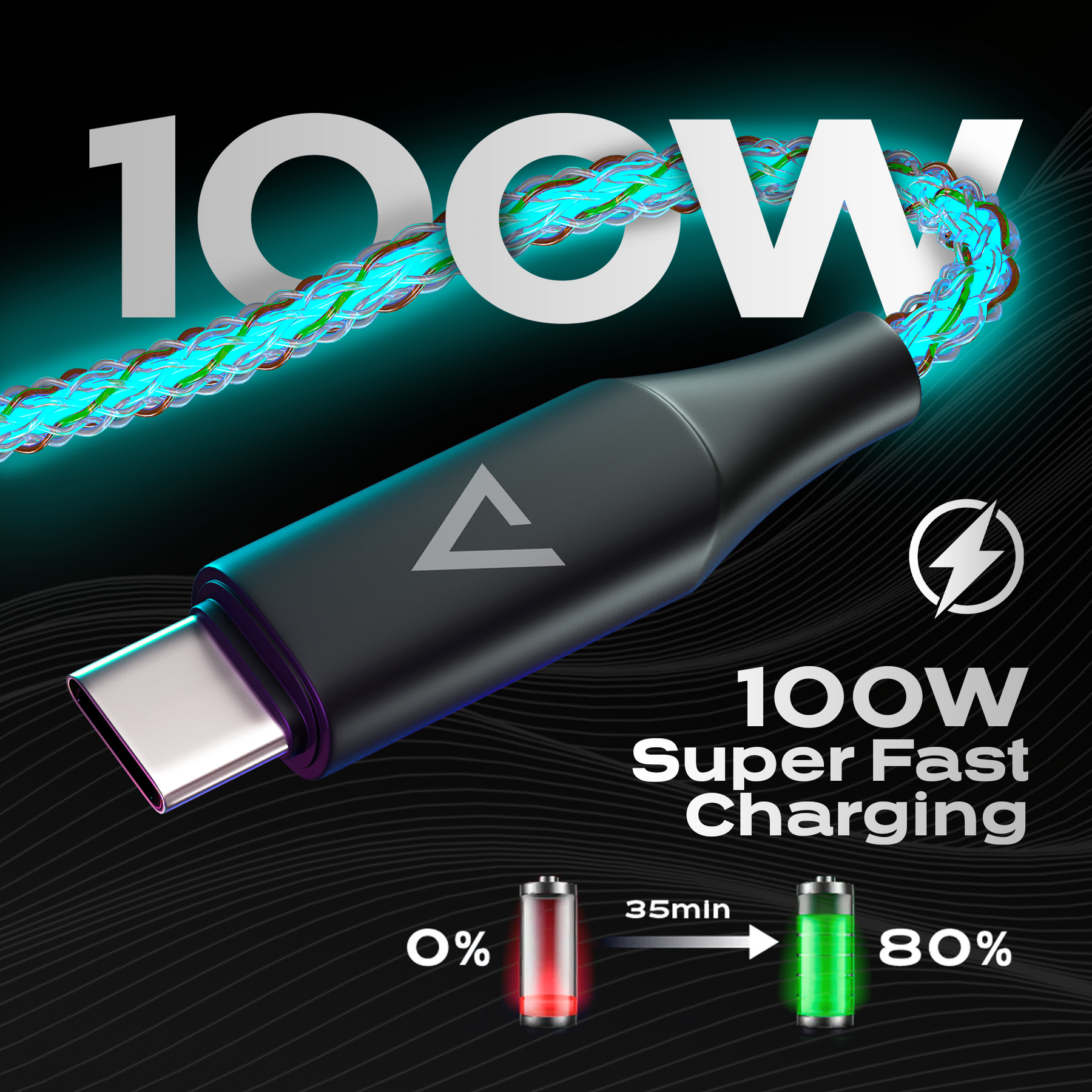 GloBright™ USB-C
Braided LED Cable | 100W BlitzCharge | USB-C
In stock, ready to ship
Shipping Within 24 Hours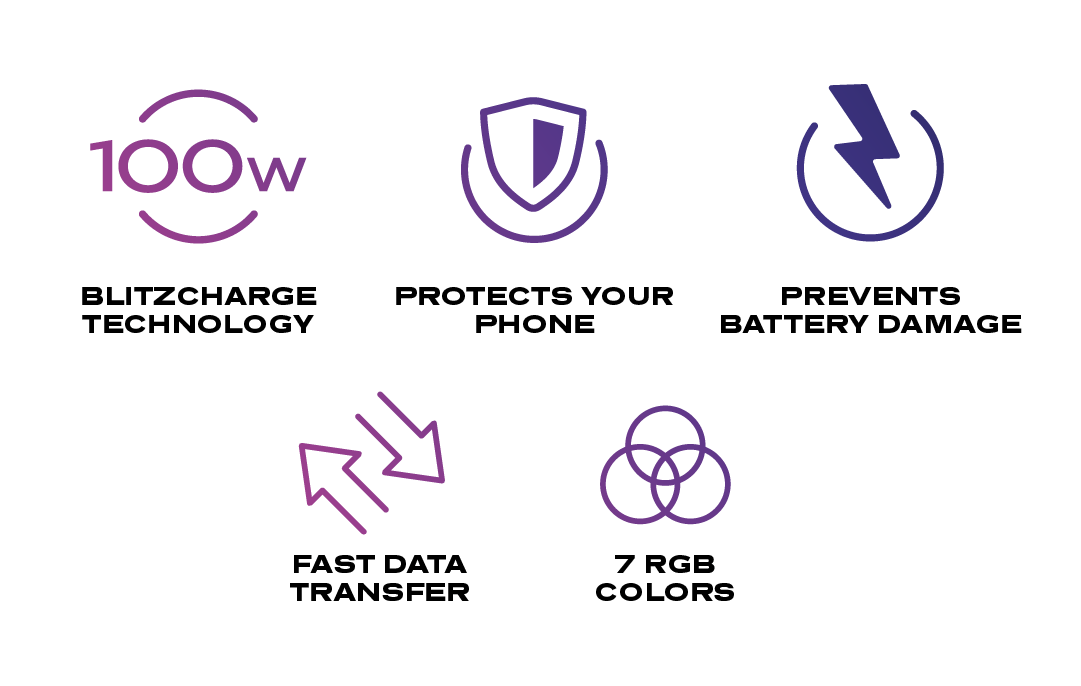 COLORFUL, BEAUTIFUL, STUNNING: The breathing glow of this charging cable will certainly get you all the attention. You can use the LED cord in all spaces of your home or even your car to get an extraordinary atmosphere while boosting your devices.
FAST CHARGING: Featuring an intelligent chip inside, this USB-C cable can support charging of up to 100W. That's enough power to charge a Macbook, Macbook Pro, iPad Pro, and Android phones.
SUPER STRONG: This glowing cable is made of premium materials with durable metal housings that can withstand 30,000 bends and twists.
THE PERFECT LENGTH: At 6ft long, this LED charging cord is perfect for use throughout your home or office. Charge while relaxing on the couch, in bed, in your car, and anywhere else you can think of.
SYNC YOUR MUSIC, FILES & MORE: It's more than just charging cable. Use it with Apple Carplay and Android auto, sync music from your laptop to your phone, or transfer files from one device to another at up to 480 mb/s.
WARNING: This product can expose you to chemicals including Bisphenol A (BPA), which is known to the State of California to cause cancer and/or birth defects or other reproductive harm. For more information go to 
www.P65Warnings.ca.gov
Fast Charging USB-C to USB-C Cable
Input Interface: USB-C
Output Interface: USB-C
Power: 100W
Transmission rate: USB 2.0/480Mbps
Function: Sync and charge

Fast Charging USB-C to Lightning
Input Interface: USB-C
Output Interface: Lightning
Power: 20W
Transmission rate: USB 2.0/480Mbps
Function: Sync and charge

Length: 6 feet
Materials: Braided copper cable with Zinc alloy housing

Silicone cable organizer included
All items purchased from statikco.com ship within 24 hours unless otherwise stated.
You can return any undamaged items within 60 days of receipt. To start a return and learn more about our return policy, click here.
All new products purchased at statikco.com come with a 1 year warranty.
If your product breaks under normal wear and tear within 1 years of purchase, we will replace it for you. Click here for more details.
Love the gentle RGB fade & color changing look incredible, not a "chasing" or "flowing" cable. Equally as bright on the charger & device end, must be lit from both ends, no brightness drop off like many other cables. EL (electroluminescent wire) chase type were the only cables that came close to these, but there's a length limit of 3 feet due to the tech used & seem to be impossible to find now. This is by far the best looking light up USB cable I've come across over many years. Bought 10 in case they aren't available in the future.
Tested pulling a constant 100W load (19.1V @ 5.24A) for 30 minutes, got a bit warm but nothing close to being worried about.
Would be nice to see more than USB 2.0 data transfer speeds, but these were bought for charging and were labeled correctly.
Could not be more happy with how great this cable looks & works.
Hi, Joseph! Your positive feedback has brought a smile to our faces. 

We're so pleased to hear that you've had a wonderful experience with our products! 

We're looking forward to serving you again for your future orders.
Glowbtight cable
The cable is fine could be a bit brighter perhaps it has to warm up
Hello, Colin!
Thank you for your positive feedback and for being satisfied with our products! 


We truly appreciate your support and look forward to continuing to provide you with exceptional products and service. 


Your satisfaction is our utmost priority.

Doesn't glow.
Don't think it works, too bad it was for a birthday present, now I have nothing.
Great purchase
Now I can see where my phone is at night
Hi, Sue!
Thank you for your support and satisfaction with our products! 


We are delighted that you liked our offerings, and your positive feedback motivates us to continue delivering top-notch quality and service. 


Your appreciation means the world to us!

Super Charged Charging
Exceeded my expectations in every way, great products, improves up time and mobility of devices. Thank you.
Hi, Jeffrey!
Thank you for your unwavering support and appreciation! 


We are thrilled to hear that you are delighted with our products. 


Your satisfaction fuels our passion to deliver exceptional quality and service. 


We look forward to continuing to exceed your expectations!