Wireless Charging Tray | Charging Pad for Multiple Devices
In stock, ready to ship
🇺🇸 Shipping Within 24 Hours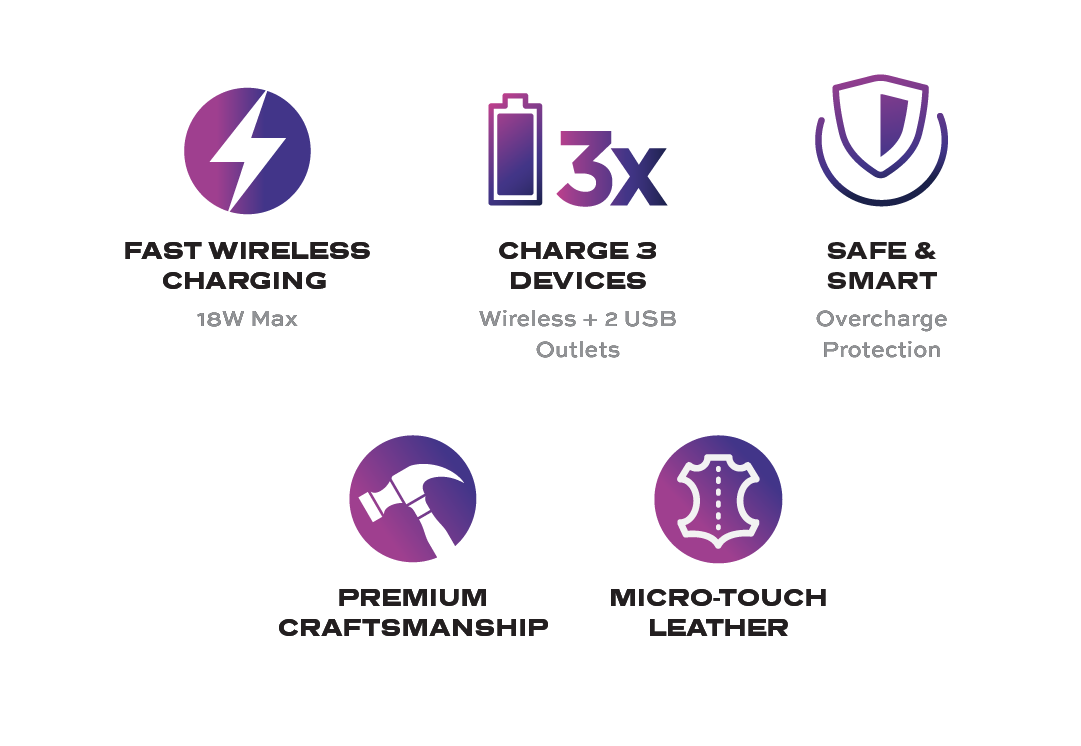 Power And Organize All Your Daily Essentials
ChargeTray is a multifunctional accessory tray with built-in wireless and wired charger. This modern leather accessory tray can charge up to 3 devices while conveniently storing all of your daily essentials. With built-in over-heating and over-charging protection, you never have to worry about leaving your phone unattended while charging.
HIGH-SPEED SAFE CHARGING : ChargeTray features a wireless charger, USB-C, and USB-A charging ports with Smart Chip Protection technology so you can charge up to 3 devices simultaneously with little worry of overcharging.
PREMIUM MATERIALS : Our modern leather accessory tray is made in premium Micro Touch Leather with an aluminum housing for a refined look. It's perfect for keeping your daily essentials organized and within reach.
ORGANIZE YOUR ESSENTIALS : ChargeTray was designed to store multiple items such as your phone, keys, wallet, coins, or even your AirPods. Its sleek design allows you to keep your items safe, organized, and within reach.
MULTIFUNCTIONAL VALET TRAY : ChargeTray has built-in over-heating and over-charging protection so you can leave your phone unattended while it charges. With ChargeTray, you can maximize your charging capabilities while minimizing the clutter by storing all of your essentials in one place.
PROTECTED & SECURE : ChargeTray is designed with advanced temperature control and short-circuit protection to protect your device from overcharging. The secure-fit design provides reliable charging and a secures your devices for fast and uninterrupted charging.
All items purchased from statikco.com ship within 24 hours unless otherwise stated.
You can return any undamaged items within 60 days of receipt. To start a return and learn more about our return policy, click here.
All new products purchased at statikco.com come with a 1 year warranty.
If your product breaks under normal wear and tear within 1 years of purchase, we will replace it for you. Click here for more details.
Power & Organize Your Daily Essentials
ChargeTray is a modern leather valet tray that can charge up to 3 devices and convenient store all of your daily essentials. With built-in over-heating and over-charging protection, you never have to worry about leaving your phone unattended while charging.
Charge Your Phone, Watch & Headphones
The ChargeTray features an 15W wireless charger, USB-C port and USB-A port so you can keep all your daily devices powered.
Safe & Fast Charging For Your Devices
SmartChip protection prevents damaging your devices from overcharging. Never worry about leaving your phone charging overnight again. 
Premium Micro-Touch Leather & Anti-Slip Pad
ChargeTray's modern design seamlessly fits into any decor providing a powerful and organized space for your daily essentials.
Compatible With Your Small Daily Devices
The USB-A and USB-C port share 5W of total output. The ports will not support charging larger devices such as tablets.
What's Included In The Box
Power Cable, 18 W Power Adapter (USB-A to USB-C), Charge Tray
Yes! the ChargeTray comes with an 18W power adapter as well as a USB-A to USB-C cable.
15W using the included power adapter
The maximum output of the wired ports is 5W each. These ports are designed for charging smaller devices such as wireless headphones and smart watches.

While a device is being wirelessly charged, the two wired ports share 5W of output.
Yes, the wireless charger can connect with a device at a maximum distance of 8mm which is less than the thickness of most cell phone cases.
The wireless charger is not designed to charge smart watches as they use proprietary connectors to wirelessly charge. You can connect the cable to the wired port to charge your smart watch.
The wireless charger uses the Qi (chee) standard which is compatible with all iPhone models 8 & newer along with most other smartphone manufacturers.
Yes, the ChargeTray is compatible with the iPhone 12, iPhone 12 Pro, and iPhone 12 mini via Qi wireless charging up to 7.5W.
The ChargeTray is universal using the USB cable, but is only compatible in the US with the power adapter provided.
Wireless charging is a cable-free way to charge your devices. Through inductive charging, energy is transferred from the wireless charger to your phone.
Just the left side where the charging icon is located. ChargeTray is designed as both a charger and valet tray. The left side charges your device, while the right side is a place to store your everyday items.
It depends. The ChargeTray can charge up to 15W, which is faster than charging your phone when using a standard 5W power adapter (included in most smartphone boxes). However some newer smartphone devices can charge up to 25 or even 50 watts using special chargers. However, to extend the life of your phone it could be beneficial to limit the amount of super-fast charging you do.
The two ports share 5W of total charging power, which is not recommended for larger devices. The two ports are perfect for charging devices such as airpods, smart watches, fitness trackers, and other small electronics.