Up to 7x More Power: 45W of Charging: Quickly charge up two devices at once. Up to 7x more power than typical phone chargers (5w).

Charge Anything: USB + USB-C. Charge up your laptop, phone, tablet, power bank, toys, and more.

Apple, Android, and More: Compatible with virtually all modern devices. Samsung, Google, Motorola, LG, Lenovo, and more.

Charge 2 Devices at Once. Easily charge two devices at once without carrying extra adapters everywhere you go.

Travel the World. Travel Lightly. 4 free adaptors ($25 value) allow you to charge up in the USA, EU, UK, and Australia. 

Smart Overheat Protection: Save yourself from expensive electrical repairs and battery damage with Statik Smart Protection. 

50% Faster Charging with GaN Technology: New GaN chargers are faster and safer than traditional chargers, with 50% faster charging and 20% smaller devices, all while giving off less heat.

1-year warranty
Output: 45W max
Number of USB-C Ports: 1 USB-C Port
Number of USB-A Ports: 1 USB-A Port
Number of Outputs: 2
Input: 100 - 240V~50/60Hz,1.5A

1-Port Charging:
USB-C: 45W
USB-A: 18W

2-Port Charging:
USB-C + USB-A: 30W max

Dimensions & Weight:
Dimensions: 2.375" x 1.75" x 1"
Weight: 0.265lbs

Max Output Voltage/Amp (USB-C): 20V/2.25A
Max Output Voltage/Amp (USB-A): 12V/1.5A
All items purchased from statikco.com ship within 24 hours unless otherwise stated.
You can return any undamaged items within 60 days of receipt. To start a return and learn more about our return policy, click here.
All new products purchased at statikco.com come with a 1 year warranty.
If your product breaks under normal wear and tear within 1 years of purchase, we will replace it for you. Click here for more details.
Apple, Android, and More
USB and USB-C Outlets
Give your laptop the functionality of a desktop with a bigger keyboard, a mouse, drawing tablet, extra monitors, and more. Make it easier and more comfortable to get work done.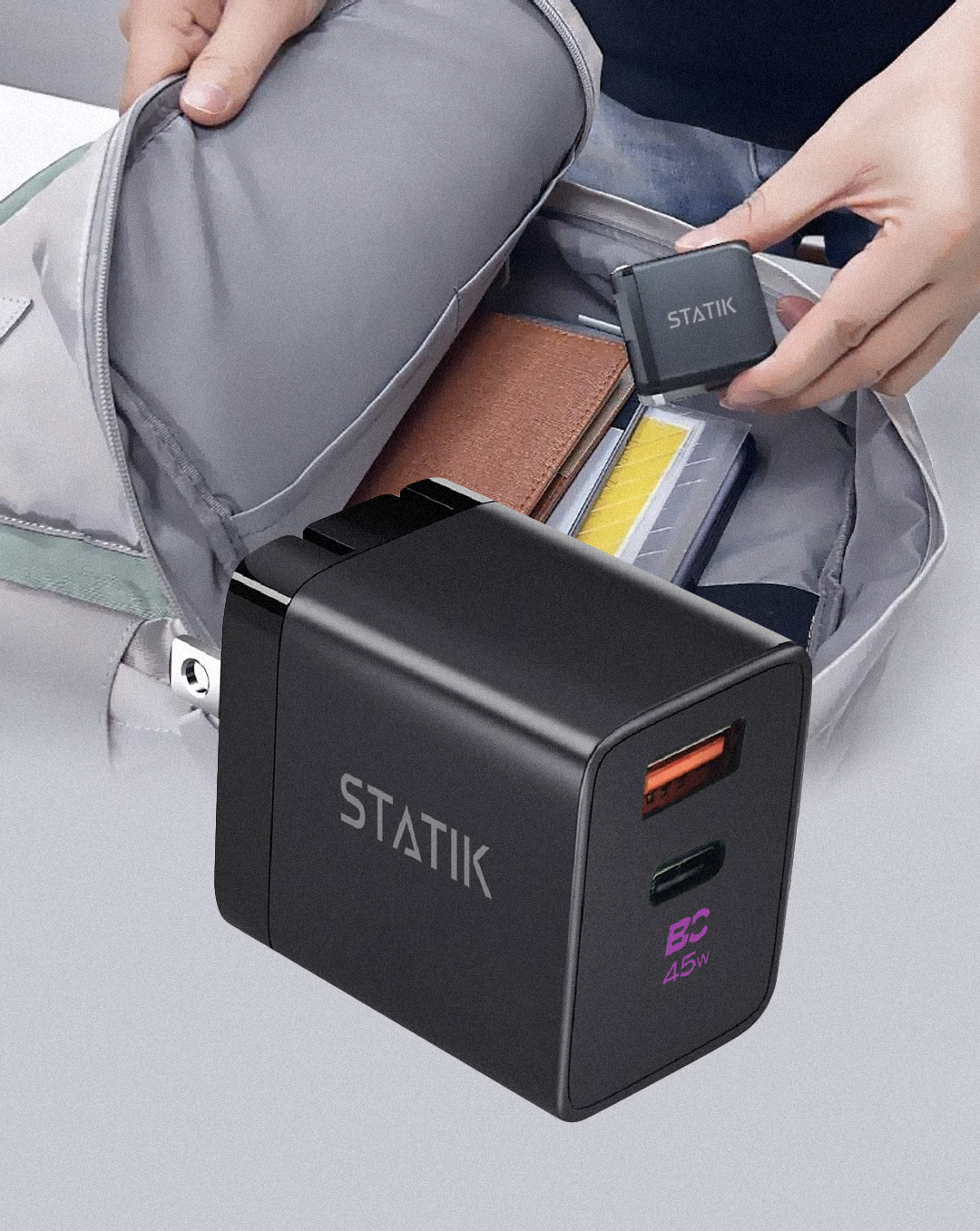 Perfect for Traveling
4 Free Connectors
Included ($25 Value)
The 4 free connectors allow you to charge up in the USA, UK, EU, and Australia – without bringing a bunch of extra chargers with you.
Charge 2 Devices at Once
Easily charge two devices at once without carrying extra adapters everywhere you go.
Instantly Adjusts to the Right Power for Your Device.
New GaN technology allows you to charge your devices even faster, without overheating or damaging your phone, laptop, or tablet. Automatically adjusts to 5V3A, 9V3A, 12V3A, 15V3A, or 20V2.25A.
Great quality no regrets 👌🏻
Hello, Chase! Thank you for your support and satisfaction with our products! 

We are delighted that you liked our offerings, and your positive feedback motivates us to continue delivering top-notch quality and service. 

Your appreciation means the world to us!
45W GaN BlitzCharge™ | Dual Power Adapter | 2 Ports Wall Charger | Universal & Compact
Hey, Lou!
Thank you for your positive feedback and for being satisfied with our products! 


We truly appreciate your support and look forward to continuing to provide you with exceptional products and service.


Your satisfaction is our utmost priority.
Have not received it as yet
Hello, Bernard!
We have already reshipped your order. Once your order is shipped, you'll receive a tracking number so you can track your package. :)
45W GaN BlitzCharge™ | Dual Power Adapter | 2 Ports Wall Charger | Universal & Compact