2x Ultimate Charger
2-pack | 20,000mAh Power Bank | 65W Power
In stock, ready to ship
Shipping Within 24 Hours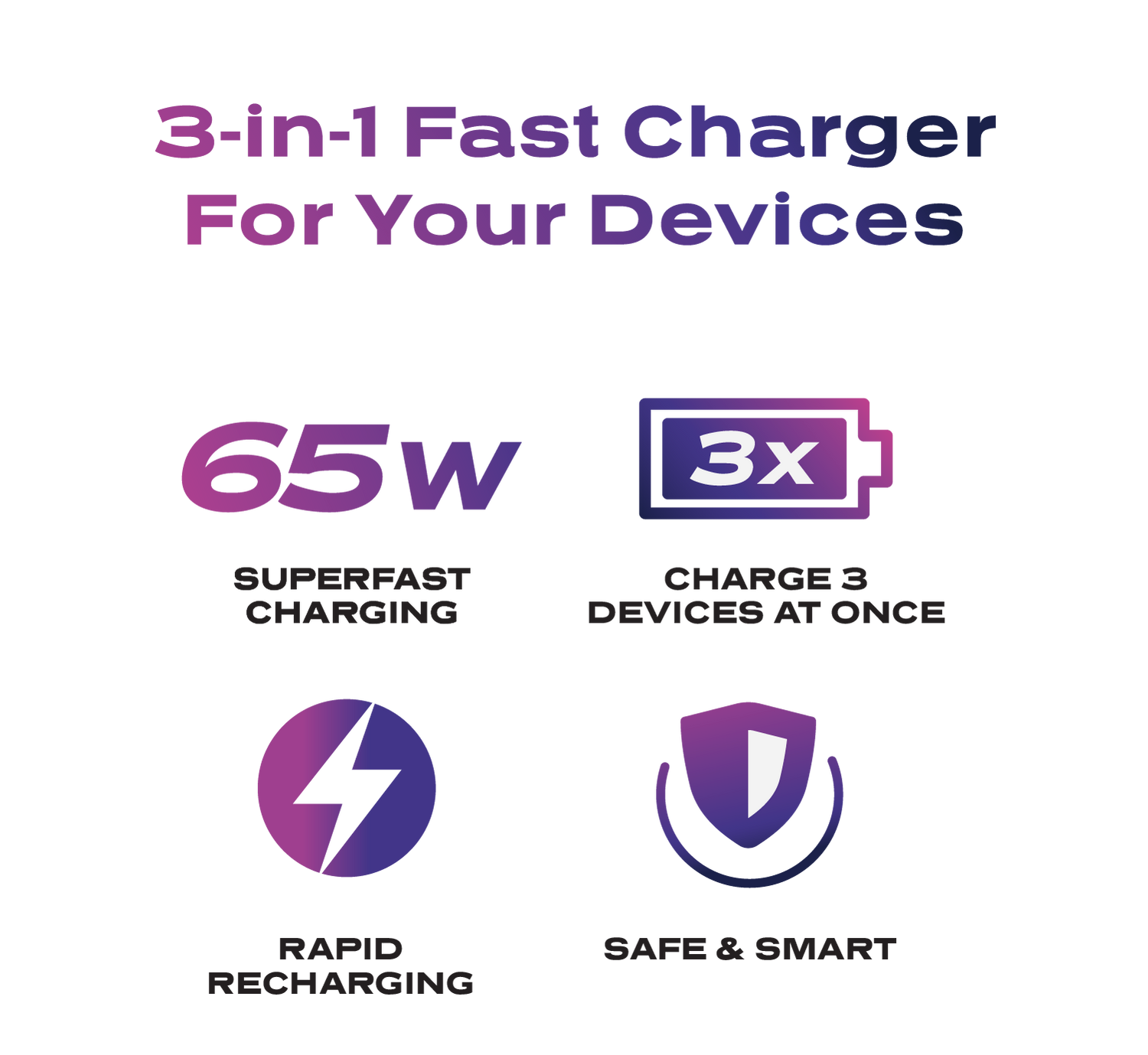 Keep Your High-Power Devices Charged Up While You're On The Go!
The Ultimate Charger is a portable powerhouse that provides enough power to charge your laptop and other high-power devices. The 20,000mAh capacity allows you to fully charge your laptop or charge your smartphone 7 times. MultiPort Recharging means you will always have a cable that can recharge the battery pack. The travel-ready slim design features an ultra-durable metal case an LED battery life indicator
65W POWER DELIVERY

 - Provides enough power to charge a laptop at full speed

HUGE 20,000mAh CAPACITY

 - Charge your smartphone 7 times or a full charge for your laptop

MULTIPORT RECHARGE

 - Use a USB-C, Lightning or MicroUSB to recharge your Ultimate Charge

SLIM & DURABLE METAL BODY

 - Fits easily into your briefcase, laptop case, or backpack
Dimensions - 6.38" x 4.17" x 0.57, 1.05 lbs
All items purchased from statikco.com ship within 24 hours unless otherwise stated.
You can return any undamaged items within 60 days of receipt. To start a return and learn more about our return policy, click here.
All new products purchased at statikco.com come with a 1 year warranty.
If your product breaks under normal wear and tear within 1 years of purchase, we will replace it for you. Click here for more details.
65W Fast Charging Power Bank Airplane Friendly
Keep your laptop charged around the neighborhood or across the globe! Ultimate Charger has the power and capacity to keep all your devices juiced.
Charge Up To 3 Devices At Once
Charge Your Smartphone, iPad and other devies at the same time. Ultimate Charger features a 65W USB-C port and 2 15W USB-A ports.
Rapid Recharge Gets You Back To Work & Play Faster
Use the USB-C port and go from 0 to 100% charge in as fast as 1.25 hours. Don't have a USB-C cable? Use the Micro-USB or Lightning ports to recharge the Ultimate Charger from 0-50% in 5.5 hours.
Wide Compatibility For All Your Devices
Ultimate Charger can keep all your daily devices juiced including laptops, smartphones, iPads, headphones, gaming consoles, and more.
Safe, Durable & Travel Friendly
The slim metal casing of the Ultimate Charger fits easily into your briefcase, laptop bag, backpack or purse. The integrated smart chip selects the right power to prevent damaging your devices from overcharging.
The charging times vary depending on the type of cable and power adapter. When using a 65W power adapter and the USB-C port, the charge time from 0-100% can be as fast as 1.25 hours. When using the Lightning or Micro-USB port, the charge time from 0-100% can be as fast as 11.5 hours. To optimize charging time, use a USB-C cable with up to a 65W power adapter.
While charging two devices at once, the maximum power output is limited to 15W per port to prevent the device from overheating. Most laptops require at least 65W of power to recharge their internal battery so you would need to disconnect your phone until you are done charging your laptop.
Awesome Power Bank 20000mAh!!!
This is the 2nd Power Bank I purchased. Love it when I go flying. Does the whole Flight easy. Phones Tablets Laptops the lot. Really Handy to have. Especially when there is no power.
Hadn't had a chance to use it yet
Power Bank Cinvenience
Pros
1. Fast charge my devices conveniently
2. Blue LEDs
3. Faster charging when using one device
4. Slimline
5. Suitable for Apple & Android
6. Take anywhere
Cons
1. Weight..continuous hand use is heavy..I use a flat surface where possible.
General
I keep in a dedicated portable case together with accessories
I would however recommend a protective slip-on cover.
Hi, Leith!
Thank you for your support and satisfaction with our products! 


We are delighted that you liked our offerings, and your positive feedback motivates us to continue delivering top-notch quality and service. 


Your appreciation means the world to us!

Power Bank
I do not normally write reviews good or bad, but this power bank is a lifesaver. It takes a while to fully charge once drained to below half, but it holds a charge line nobody's business.
Lost power due to a lightning storm and was able to keep my tablet, phone and a miny fan going for the 10 hours the power was out.
Thank you, Dianna, for your unwavering support and appreciation! 


We are thrilled to hear that you are delighted with our products. 


Your satisfaction fuels our passion to deliver exceptional quality and service. 


We look forward to continuing to exceed your expectations!
This was a gift so I don't know
Hello, Bojechko!
We hope that you like our product! Your satisfaction is truly our #1 priority.
If you like it so much, we would really appreciate you leaving a review about your experience with us here: https://www.trustpilot.com/evaluate/statikco.com
Just scroll down the page and click on 'write a review'!
Thank you so much and have a great day!