3x TsumoCharge
3-Pack | 100W Charging |480MBps Data Cable | Orange
In stock, ready to ship
Shipping Within 24 Hours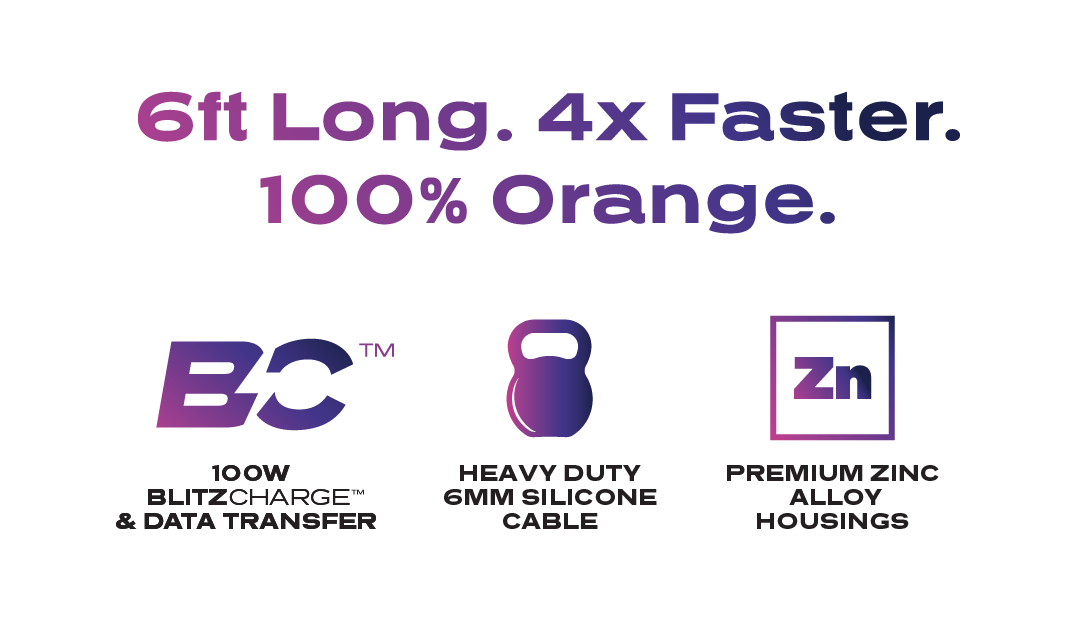 The indestructible silicone charging cable with 100w BlitzCharge technology.
Indestructible Silicone Charging Cable: Stop wasting money on cheap cables that wear out.
BlitzCharge Ultra-Fast Safe Charging Technology: TsumoCharge delivers up to 4x more power than traditional cables so you can get back to the fun faster.
Strong, Organized, Powerful: Roll it up and go. The leather cable wrap keeps your TsumoCharge neat and safe.
Ultra-Fast 100W Power: Supports the fastest charging through USB-C to USB-C connectors, so you can save hours of valuable time being stuck next to the power outlet.
Easy To Find, Built To Last: The bright cable and durable metal housing make a statement and are extremely durable.

WARNING: This product can expose you to chemicals including Bisphenol A (BPA), which is known to the State of California to cause cancer and/or birth defects or other reproductive harm. For more information go to 

www.P65Warnings.ca.gov
Fast Charging USB-C to USB-C Cable
Input Interface: USB-C
Output Interface: USB-C
Power: 100W
Transmission rate: USB 2.0/480Mbps
Function: Sync and charge

Fast Charging USB-C to Lightning
Input Interface: USB-C
Output Interface: Lightning
Power: 20W
Transmission rate: USB 2.0/480Mbps
Function: Sync and charge

Length: 6 feet
Materials: TPE cable exterior with Zinc alloy housing
Color: White

Leather cable organizer included
statikco.com から購入したすべての商品は、特に明記されていない限り 24 時間以内に発送されます。
受領後 60 日以内であれば、損傷のない商品を返品できます。返品を開始し、返品ポリシーの詳細を確認するには、 ここをクリックしてください。
statikco.com で購入したすべての新製品には 1 年間の保証が付いています。
購入後 1 年以内に通常の磨耗により製品が破損した場合は、交換させていただきます。詳細については、ここをクリックしてください。
Best charging cable out their!
Statik charging cables are the best. They're durable and delivers the charging speeds as promised. I have 4 of their products and love all of them. Must have accessories in a household
Love large rigid connectors and easy to route gel cable
This is the perfect cable for anyone with limited dexterity
Hey, Kim!
Thank you for your unwavering support and appreciation! 


We are thrilled to hear that you are delighted with our products. 


Your satisfaction fuels our passion to deliver exceptional quality and service. 


We look forward to continuing to exceed your expectations!

I left a previous review...
about the cover coming off of one end of the cable. I don't know if this was the cause but the cable became very slow, overheated and started smoking while plugged into my computer. I hope I caught it in time but I really don't trust it any longer.
Hi, Uvam!
That shouldn't happen. Please check your email so we can resolve this. :)
Salut Nicolas !
Merci pour votre soutien et votre satisfaction avec nos produits!
Nous sommes ravis que vous ayez apprécié nos offres et vos commentaires positifs nous motivent à continuer à fournir une qualité et un service de premier ordre.
Votre appréciation signifie le monde pour nous !
Extraordinaire
This câble is wonderful! Résistant
Hi, Benoit!
Thank you for your positive feedback and for being satisfied with our products! 


We truly appreciate your support and look forward to continuing to provide you with exceptional products and service.


Your satisfaction is our utmost priority.