2x Ultimate Charger
2-pack | 20,000mAh Power Bank | 65W Power
In stock, ready to ship
Shipping Within 24 Hours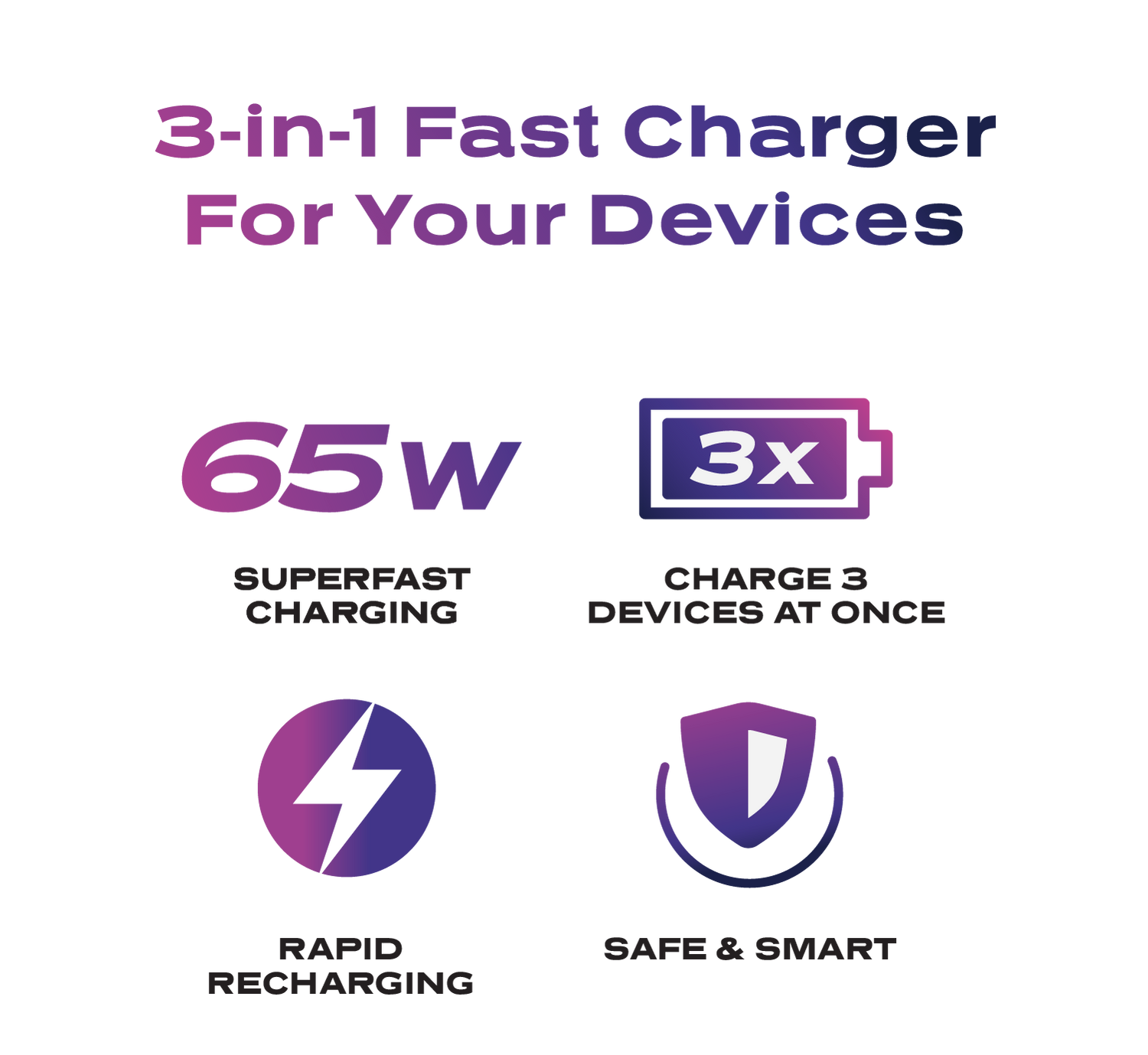 Keep Your High-Power Devices Charged Up While You're On The Go!
The Ultimate Charger is a portable powerhouse that provides enough power to charge your laptop and other high-power devices. The 20,000mAh capacity allows you to fully charge your laptop or charge your smartphone 7 times. MultiPort Recharging means you will always have a cable that can recharge the battery pack. The travel-ready slim design features an ultra-durable metal case an LED battery life indicator
65W POWER DELIVERY

 - Provides enough power to charge a laptop at full speed

HUGE 20,000mAh CAPACITY

 - Charge your smartphone 7 times or a full charge for your laptop

MULTIPORT RECHARGE

 - Use a USB-C, Lightning or MicroUSB to recharge your Ultimate Charge

SLIM & DURABLE METAL BODY

 - Fits easily into your briefcase, laptop case, or backpack
Dimensions - 6.38" x 4.17" x 0.57, 1.05 lbs
statikco.com から購入したすべての商品は、特に明記されていない限り 24 時間以内に発送されます。
受領後 60 日以内であれば、損傷のない商品を返品できます。返品を開始し、返品ポリシーの詳細を確認するには、 ここをクリックしてください。
statikco.com で購入したすべての新製品には 1 年間の保証が付いています。
購入後 1 年以内に通常の磨耗により製品が破損した場合は、交換させていただきます。詳細については、ここをクリックしてください。
65W 急速充電パワーバンク 飛行機対応
近所や世界中でラップトップを充電し続けましょう。 Ultimate Charger は、すべてのデバイスを充電し続けるパワーと容量を備えています。
最大 3 台のデバイスを一度に充電
スマートフォン、iPad、その他のデバイスを同時に充電します。 Ultimate Charger は 65W USB-C ポートと 2 つの 15W USB-A ポートを備えています。
急速充電により、より早く仕事や遊びに戻ることができます
USB-C ポートを使用すると、0% から 100% まで最速 1.25 時間で充電できます。 USB-C ケーブルをお持ちではありませんか? Micro-USB または Lightning ポートを使用して、Ultimate Charger を 0 ~ 50% まで 5.5 時間で再充電します。
すべてのデバイスに対応する幅広い互換性
Ultimate Charger は、ラップトップ、スマートフォン、iPad、ヘッドフォン、ゲーム機などを含む、毎日使用するすべてのデバイスを充電し続けることができます。
安全、耐久性があり、旅行に最適
Ultimate Charger のスリムな金属ケースは、ブリーフケース、ラップトップ バッグ、バックパック、ハンドバッグに簡単に収まります。統合されたスマート チップは適切な電力を選択し、過充電によるデバイスの損傷を防ぎます。
充電時間はケーブルと電源アダプターの種類によって異なります。 65W 電源アダプターと USB-C ポートを使用すると、0 ~ 100% までの充電時間は 1.25 時間ほどになります。 Lightning または Micro-USB ポートを使用する場合、0 ~ 100% までの充電時間は 11.5 時間と高速です。充電時間を最適化するには、最大 65 W の電源アダプターを備えた USB-C ケーブルを使用してください。
2 台のデバイスを同時に充電する場合、デバイスの過熱を防ぐため、最大電力出力はポートごとに 15 W に制限されます。ほとんどのラップトップは、内蔵バッテリーを充電するために少なくとも 65 W の電力を必要とするため、ラップトップの充電が完了するまで携帯電話を切断する必要があります。
Awesome Power Bank 20000mAh!!!
This is the 2nd Power Bank I purchased. Love it when I go flying. Does the whole Flight easy. Phones Tablets Laptops the lot. Really Handy to have. Especially when there is no power.
Hadn't had a chance to use it yet
Power Bank Cinvenience
Pros
1. Fast charge my devices conveniently
2. Blue LEDs
3. Faster charging when using one device
4. Slimline
5. Suitable for Apple & Android
6. Take anywhere
Cons
1. Weight..continuous hand use is heavy..I use a flat surface where possible.
General
I keep in a dedicated portable case together with accessories
I would however recommend a protective slip-on cover.
Hi, Leith!
Thank you for your support and satisfaction with our products! 


We are delighted that you liked our offerings, and your positive feedback motivates us to continue delivering top-notch quality and service. 


Your appreciation means the world to us!

Power Bank
I do not normally write reviews good or bad, but this power bank is a lifesaver. It takes a while to fully charge once drained to below half, but it holds a charge line nobody's business.
Lost power due to a lightning storm and was able to keep my tablet, phone and a miny fan going for the 10 hours the power was out.
Thank you, Dianna, for your unwavering support and appreciation! 


We are thrilled to hear that you are delighted with our products. 


Your satisfaction fuels our passion to deliver exceptional quality and service. 


We look forward to continuing to exceed your expectations!
This was a gift so I don't know
Hello, Bojechko!
We hope that you like our product! Your satisfaction is truly our #1 priority.
If you like it so much, we would really appreciate you leaving a review about your experience with us here: https://www.trustpilot.com/evaluate/statikco.com
Just scroll down the page and click on 'write a review'!
Thank you so much and have a great day!